Let's Start the Party bersama penampilan Live performance dari Hailee Steinfeld dan Jeremy Zucker. Festival yang akan diselenggarakan selama 2 hari ini akan dimeriahkan oleh Above & Beyond, Afrojack, 4B x GTA x Valentino Khan, Adventure Club, Brennan Heart, Cold Blue, Darius, Didi han, Ekali, Future Code, Gold Room, KSHMR, Myon, Nervo, Ørjan Nilsen, Satin Jackets, Snakehips, Timmy Trumpet, Andre Dunant, Anton Wirjono Hogi, Apsara x Indra7, Attila Syah, Blue Clair, Cream P Double, De La House present JNaro, Greybox and Ezra Kunze, Dipha Barus, Downey, Fun on a Weekend, House Cartel, Junkie Munkie, LTN, Moko Discover, Morons Collective, Neativ, RBA Feat. Baila Fauri, Tiara Effendy, Jeremie and Gally Glitch, Remy Irwan, Resty, Riri Mestica x Thomas, Skanna, Skeep, Stan Feat. Ben Utomo, Raben, Jayko and Sun D, Sunset People Project, Subspace, Tripo, Weird Genius, Yasmin, Mc Keebo, Mc Rongkie.
Berikut Set Times SHVR GROUND FESTIVAL 2019:
Day One #SGF19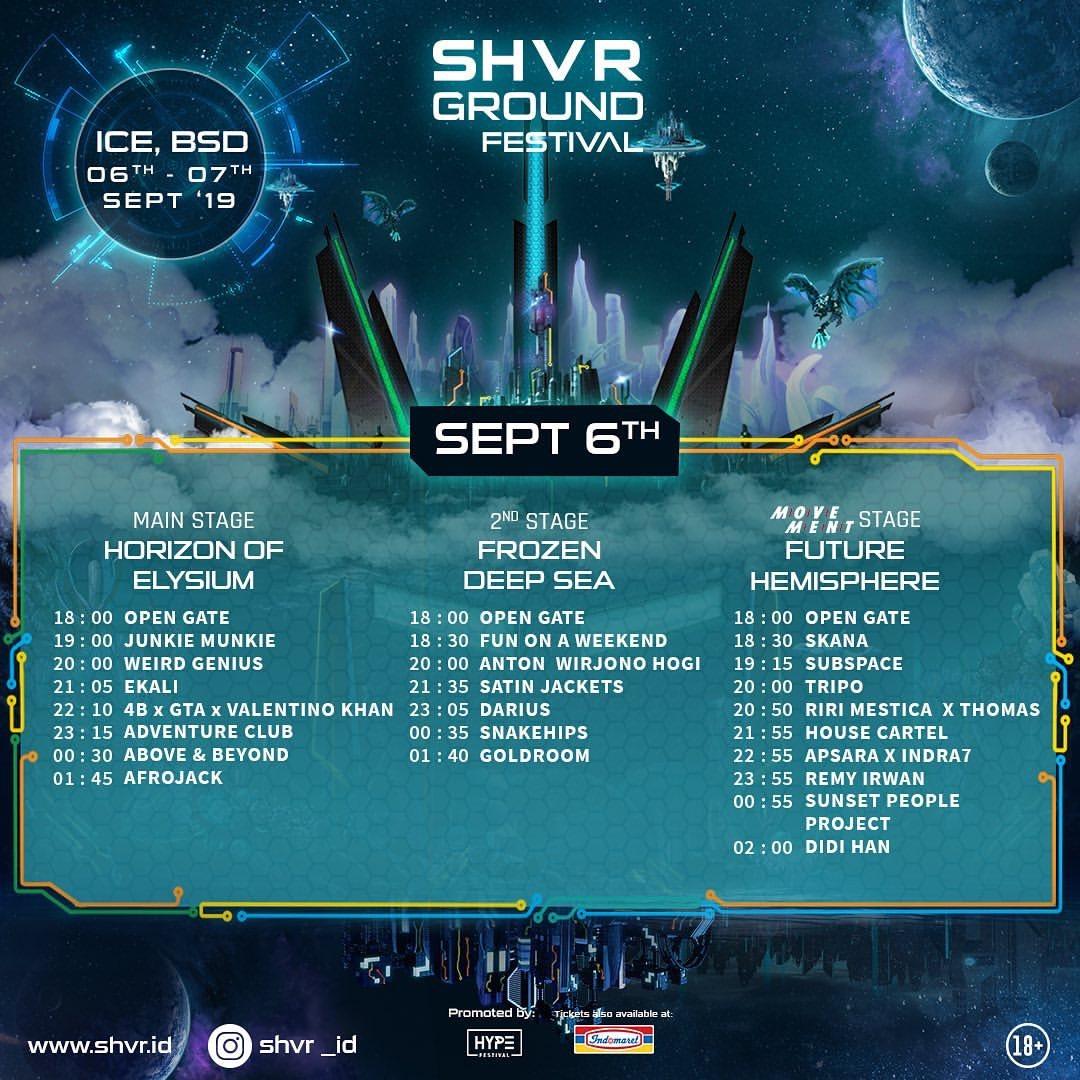 Day Two #SGF19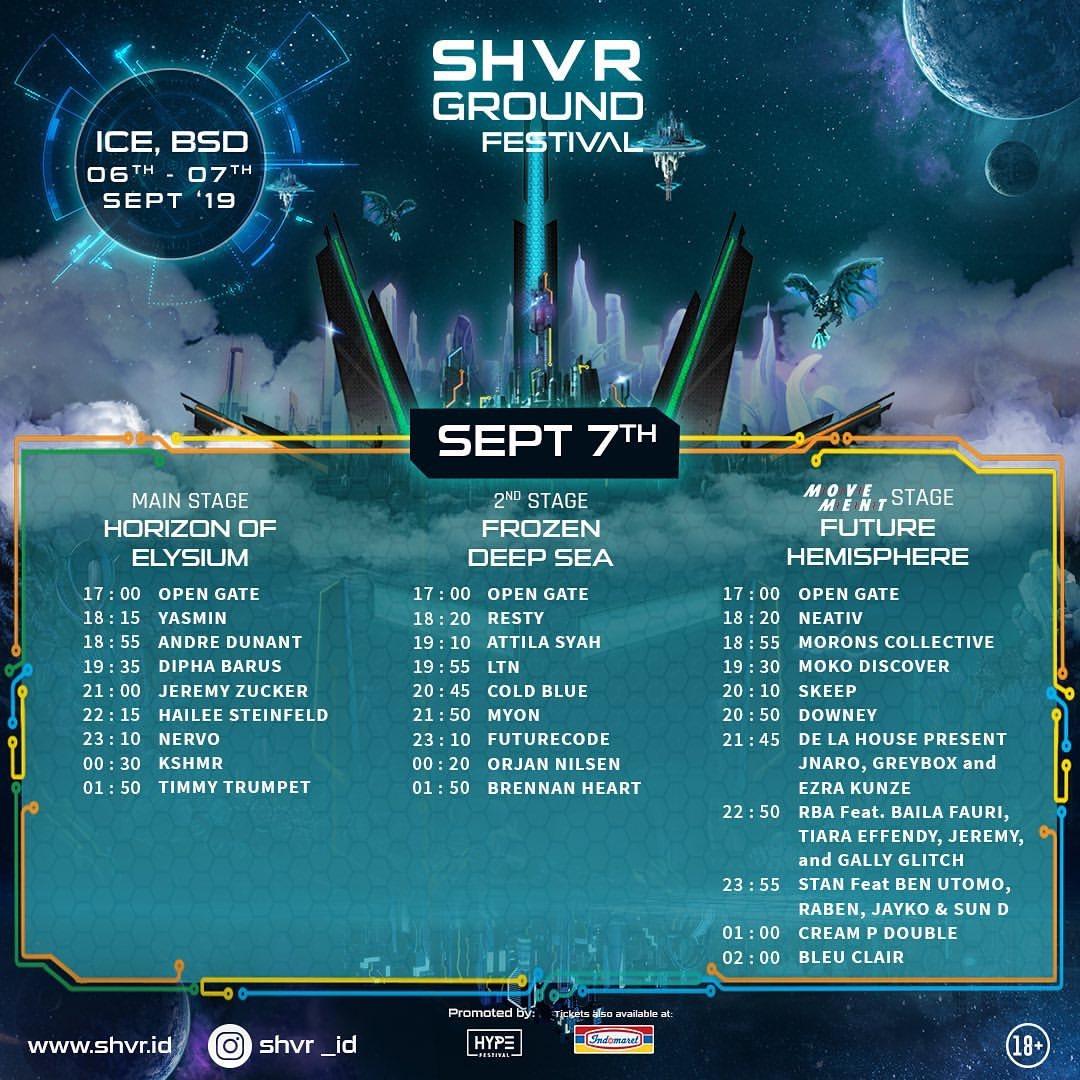 Tiket dapat diperoleh dengan membeli secara online di www.SHVR.id dan offline diseluruh gerai Indomaret.
Ikuti Instagram SHVR GROUND FESTIVAL 2019 di @SHVR_ID dan @hypefestivalid dengan tagar resmi #StartTheParty dan #SGF19
Dapatkan segera tiketnya sebelum kehabisan hanya di www.shvr.id
Harga tiket SHVR GROUND FESTIVAL 2019:
GA 1 hari : IDR 747,500.-
GA 2 hari : IDR 1,150,000.-
VIP 1 hari : IDR 1,380,000.-
VIP 2 hari : IDR 2,300,000.-
T&C Apply*
*) harga tiket sudah termasuk pajak dan tiket admin fee.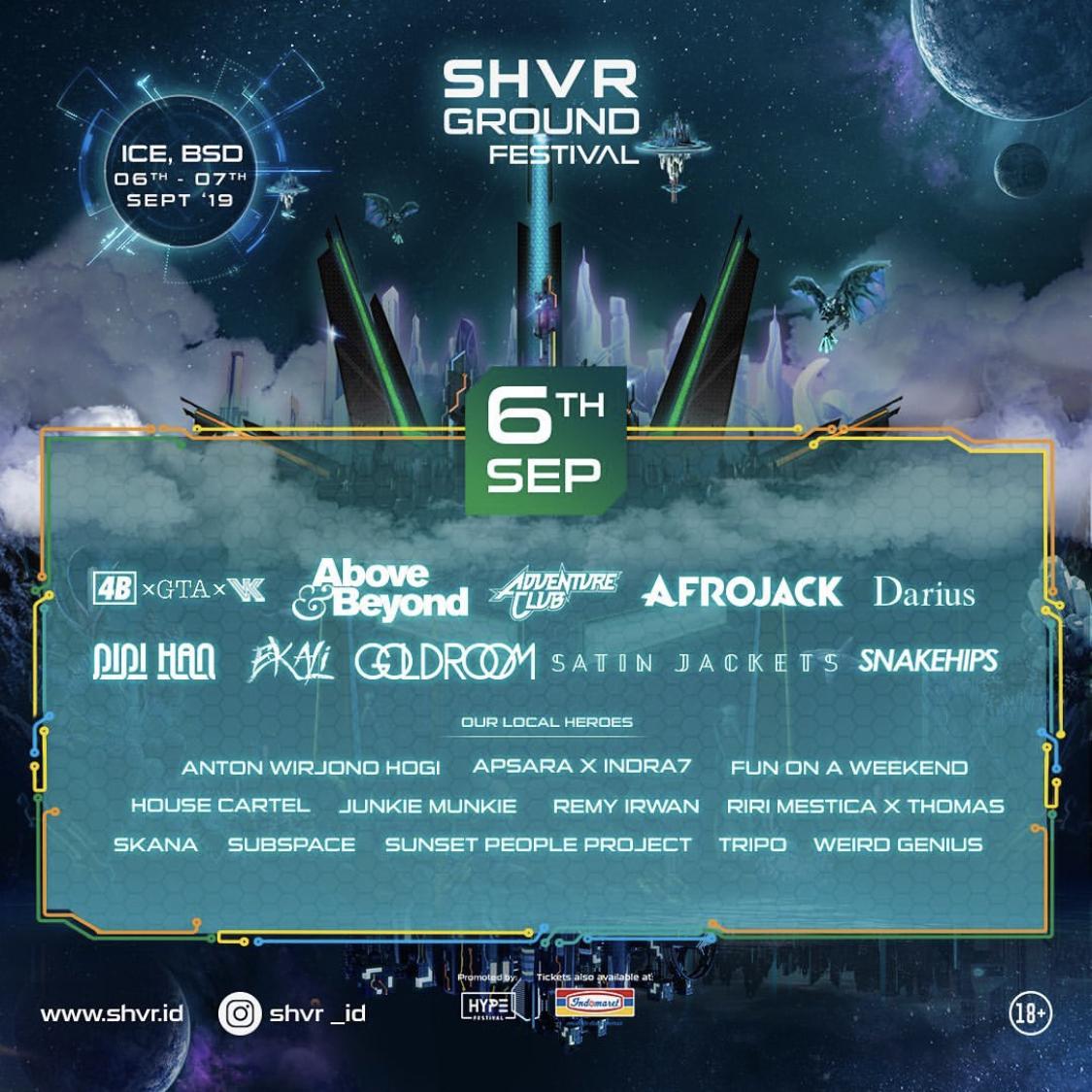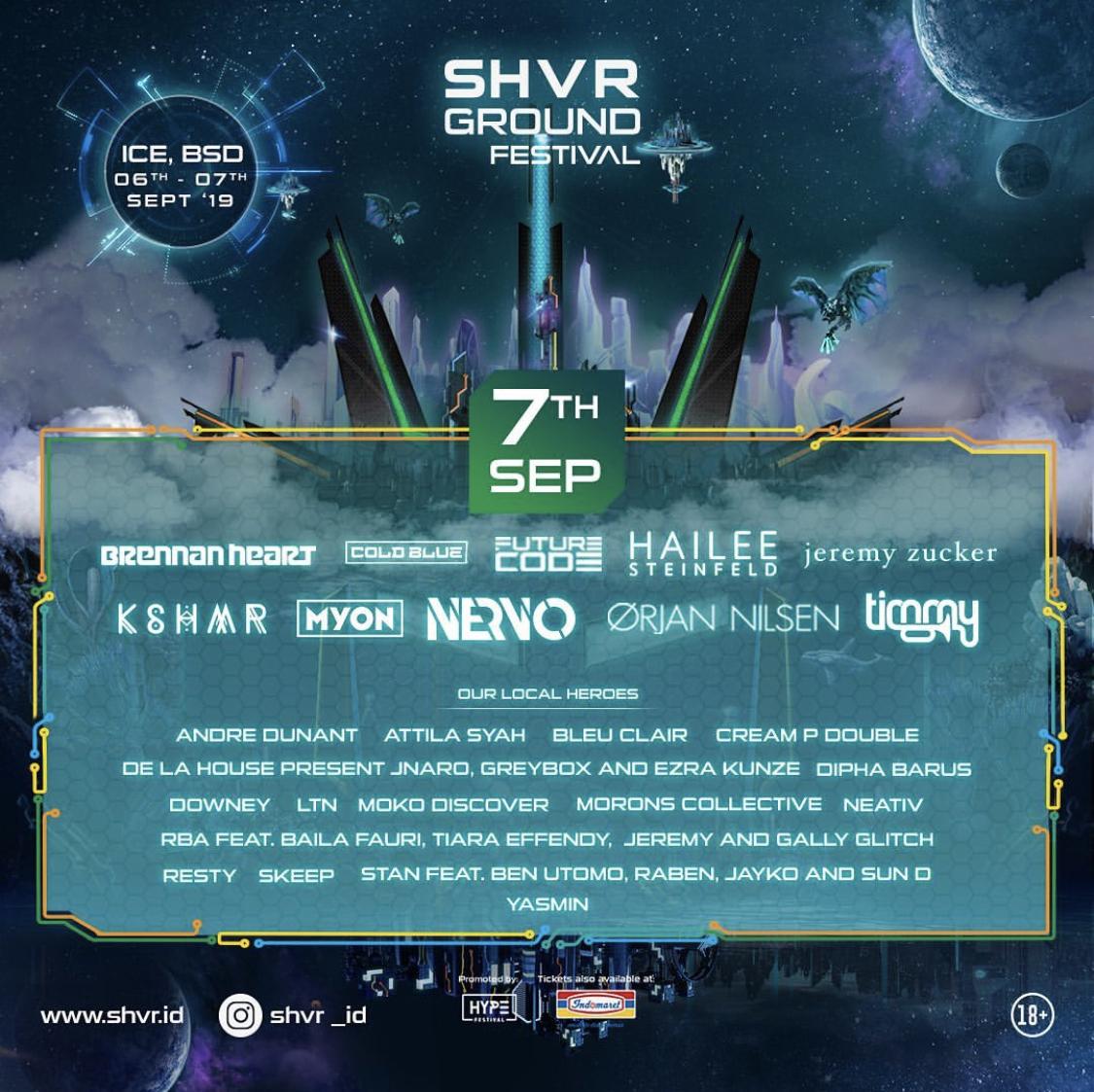 UNTUK PENGALAMAN PARTY YANG SERU – TERSEDIA KELAS VIP SOFA
Bagi Shiverian yang ingin menonton dan menyaksikan Festival dengan tempat yang lebih menyenangkan, tersedia VVIP SOFA, dimana dapat menikmati festival lebih nyaman dengan tingkat pandangan ke area panggung yang lebih seru. Untuk info lebih lanjut silahkan hubungi Dessy: +62811906063 / +6281218614835.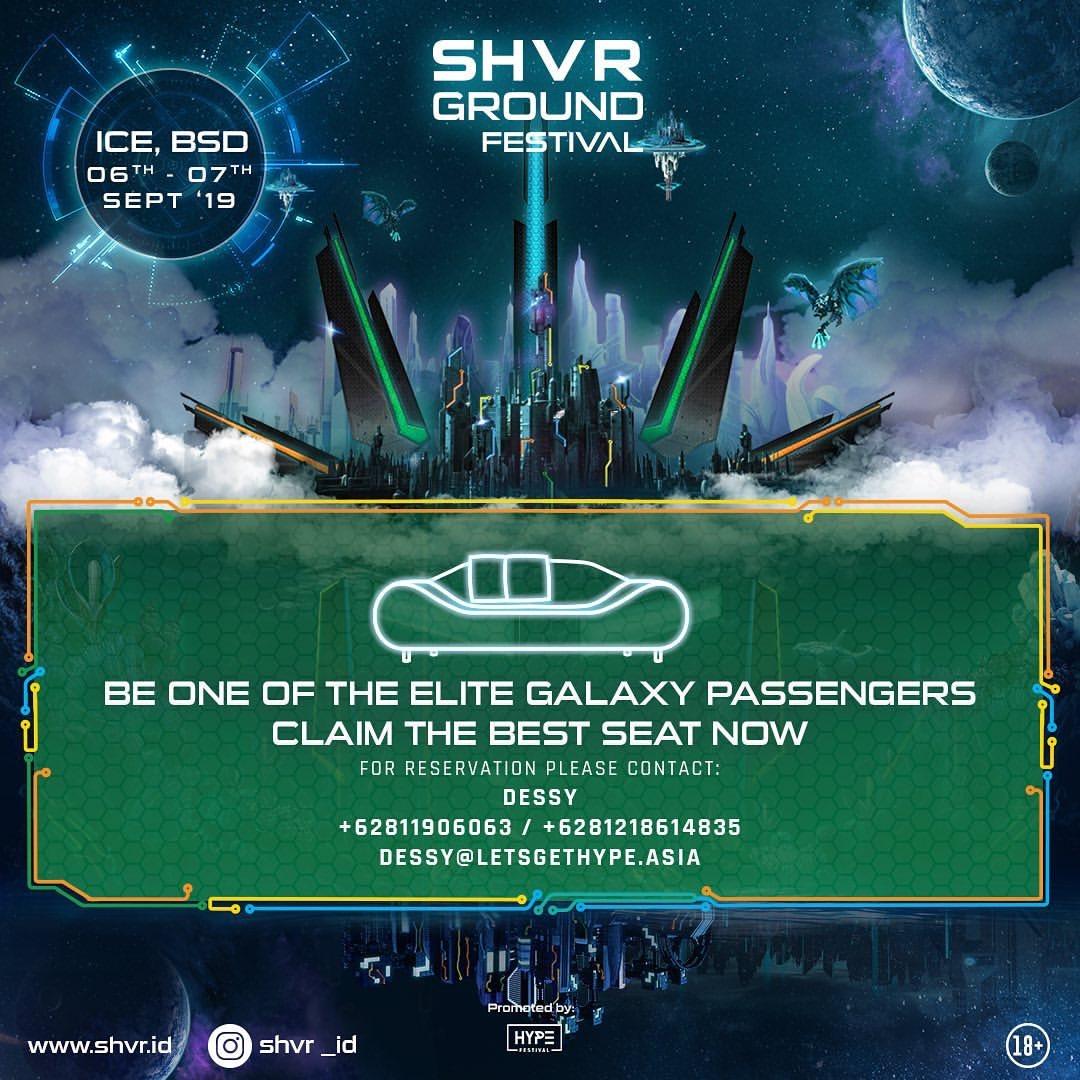 Follow Instagram @SHVR_ID
Official Hashtag: #SGF19 #StartTheParty
Promoted by: HYPE FESTIVAL
Title sponsored by SHVR
The Official Beer: Prost Beer
The Official Energy Drink: Red Bull Gold
The Official Water: Crystalline
The Official Internet: Oxygen
The Future Hemisphere Stage Partner: MOVEMENT
The Official Mall Partner: Kota Kasablanka
KEAMANAN, KESELAMATAN DAN SARANA PENDUKUNG MEDIS
SHVR GROUND FESTIVAL 2019 sangat mendukung kebijakan anti narkoba, untuk festival tahun ini keamanan yang ketat akan disiagakan untuk menjaga agar festival ini aman dari penyalahgunaan narkoba, tim keamanan yang berpengalaman akan mengamankan jalannya acara festival ini.
Aturan festival Berlaku. Untuk alasan kemanan SHVR GROUND FESTIVAL 2019 menerapkan kebijakan hanya sekali masuk bagi setiap pengguna tiket (NO RE-ENTRY POLICY). Pihak penyelenggara berhak untuk menolak masuk dan mengeluarkan pengunjung apabila melanggar peraturan festival.
Untuk informasi lebih lengkap kunjungi www.SHVR.id
Ikuti Instagram SHVR GROUND FESTIVAL 2019 di @SHVR_ID dengan tagar #SGF19
Promoted by Hype Festival
Untuk Relasi Media & PR hubungi:
Helmi Sugara Promotions (HSP)
E: helmisugara@gmail.com
HSP Team: ainindita@gmail.com, martha.serepina, noppiya01@gmail.com