Matalelaki.com - Chickhen & egg merupakan restoran yang berada di bawah naungan creative food yang sudah terkenal dengan restoran fish&co dan marutame ramen. Sesuai dengan nama restoran ini, di chicken and egg menyajikan menu utama ayam dan telur. Dengan konsep menu indonesian sampai western dihadirkan di restoran ini.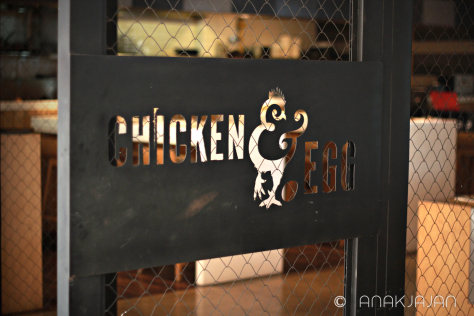 Restoran ini mempunyai kapasitas sampai 120 orang yang terpisah antara area indoor dan outdoor. Jadi anda bisa nongkrong sambil makan enak bersama teman - teman anda.
Menu Favorit
Crispy Snack Combo


Caption


Snak combonya berisi potato skin,crispy mushroom,french fries dan onion ring. Yang menarik dari snack ini adalah 3 saus yang disediakan. Ada chili sauce, salsa dan cheese sauce.

Spit Roasted Black Papper


Caption


Menu ayam klasik yang menjadi menu andalan dan favorit banyak orang. Bumbu ayamnya sangat meresap sampai ke dalam daging ayamnya. Karena dimasak dalam waktu yang lama, ayamnya benar - benar smoky dan begitu juicy, ditambah saus blackpapper yang begitu lezat dan nikmat.

Spanish Omlete


Caption


Menu classic omlete yang berisi tortila,onion,potatos dan tomato.


Lemon Creme Brulle


Caption



Menu dan kue yang baik sebagi makanan penutup, Rasa lemonnya benar - benar manis dan lezat, kuenya juga sangat lembut secara tekstur. Sangat direkomendasikan sebagai menu penutup.
Setelah berhasil dengan berbagai restoran seperti fish & co dan marutama ramen. Creative food kini menghadirkan restoran chicken and egg yang mempunyai konsep serta makanan yang berkualitas. Tidak perlu diragukan lagi, kualitas makanan dan pelayananya.